Would you like to experience the real Italian lifestyle? Are you keen on tiny, traditional villages, crystal-clear waters and the Italian gelato? If you happened to be sailing towards the Adriatic, around the heel of the Italian boot, make sure to moor a few days in Puglia. Puglia awaits you with breathtaking sights and adventures. In this article, we introduce you the area and advise you on what to do there if the wind blows you around.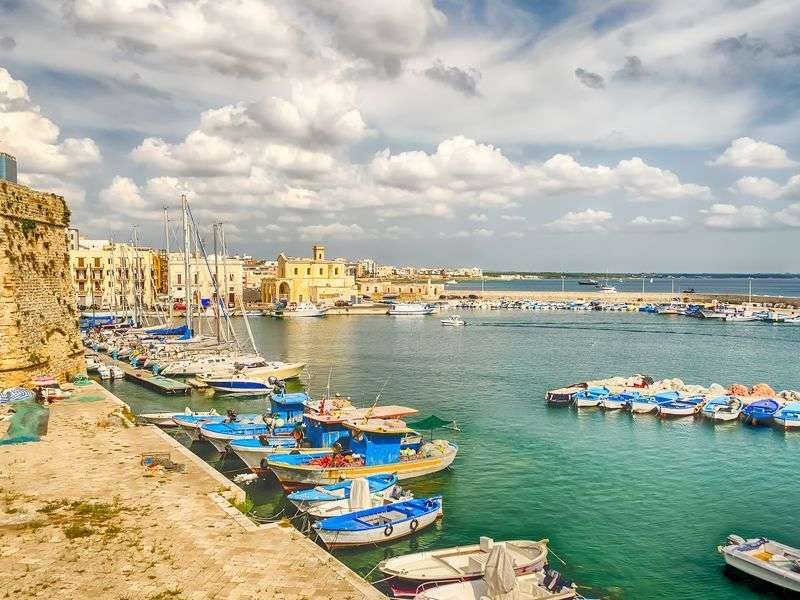 The article includes the followings:
The climate and geography of Puglia
Puglia extends over the south-eastern part of the Apennine Peninsula. It also encompasses the Gargano Peninsula- the spur of the Italian boot. Its capital is Bari. Puglia is Italy's flattest region, perfect for agriculture. It's the most fertile region of Italy, growing lots of fruits and vegetables. Owing to the fact that it's surrounded by the sea on all sides, you won't be missing fish and seafood dishes from the tables either.
Temperatures and precipitation in Puglia
Owing to its Mediterranean climate Puglia has mild winters and hot summers that favour tourism all year round. June and September might be the best time to visit. As Puglia is very popular amongst Italian tourists, crowds of visitors flood the area in peak season.Due to the closeness of the sea, temperatures vary between 2-8°C even in January. Temperatures peak in July and August when the number of days exceeding 30°C is over 80 in the southern parts of Puglia, on the coastline of the Ionian Sea. Around Salento, temperatures often reach about 40°C. In spite of its coastal location, humidity is quite low. There's only 600 ml precipitation annually, spread unevenly. Puglia is therefore considered to be one of Italy's driest and 'thirstiest' area. Check the sailing conditions and wind rose diagram of Puglia.
Things to do in Puglia if you like history
Puglia boasts several little, historical villages where traditions continue undiminished and old buildings have been preserved. If you like narrow alleyways, lively markets, ruins of old fortresses, castles and cathedrals, then the following towns will be the most important ports of call through your journey in South Italy.
Alberobello
No wonder this small town has become a UNESCO World Heritage site in 1996. The special construction and appearance of the houses offer a unique sight for visitors.
The whitewashed stone trulli give the place a fairytale-like look. There're several museums introducing the town's history and traditions.
Ceglie Messapica
If you love history and are wondering what to do in Puglia, then this town is a perfect choice for you. Its narrow roads will take you to another world. The residents, who still live here, kept the town's original appearance. There's a historical centre in the town, encompassing a castle, a library and an exhibition about the history of art.
Castel del Monte
Castel del Monte is one of the most famous castles built by Frederick II. Holy Roman Emperor. It was built-in 1240 and due to its unique octagonal shape it's often referred to as 'the stone crown of Apulia'. The castle has also become part of the UNESCO World Heritage in 1996. If you are wondering what to do in Puglia apart from swimming, trust us, this castle will be one of your favourite sites.
Lecce – the crown jewel of Puglia
If you wish to visit historical sites in Puglia, Lecce, in the middle of the Salento Peninsula, could easily become the centre of your journey. Being famous for its architecture, Lecce will definitely stun you, if you moor your boat nearby. Visit the Basilica of Santa Croce, the ruins of the Roman Amphitheatre, Porta Napoli, the Church of San Giovanni Battista and the cathedral. You won't regret a minute spent here. However, this isn't the end of the list of the things to do in Puglia.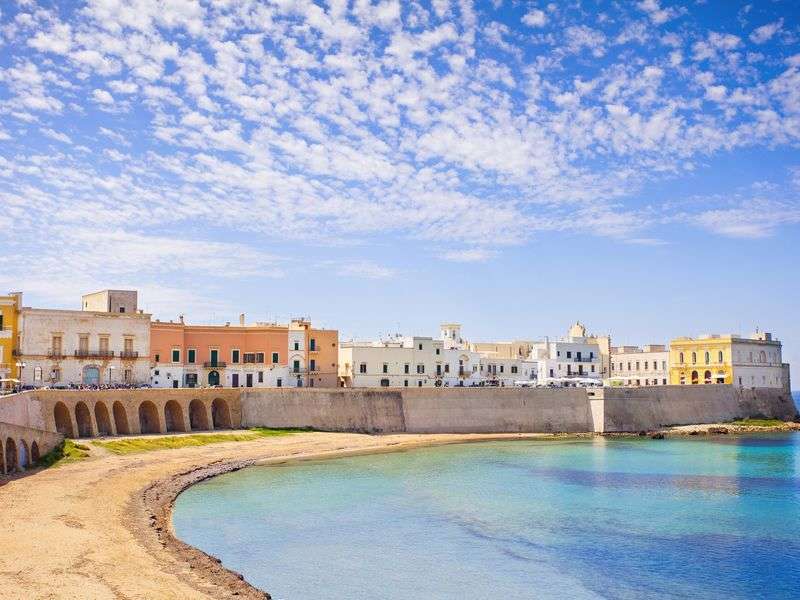 What to do in Puglia if you're in love with Italian culture
The lovers of Italian delicacies and traditions will be spoilt in Puglia. As we previously mentioned, the region bears a significant role in Italian fishing and agriculture. What comes into your mind when thinking about Italy? Mozzarella, olive oil, seafood, pizza and pasta? Then you can sit back, these are all to be found on the offers of the friendly Italian trattorias, all fresh and of excellent quality. Make sure to sample focaccia, a typical Italian flatbread decorated with olives and tomatoes; a real local speciality.
Have you been to Italy before? Then you'll probably be familiar with the narrow alleyways. It's not at all different in Puglia either. The city was designed to have narrow roads and houses close to each other, therefore, still nowadays there's hardly any space for extension. As a result, many Italian housewives roll their doughs and prepare lunch in front of their houses, giving the towns a truly authentic look. In the south-eastern region of Italy, you can often see street vendors and stalls and of course, on bigger squares, it's rather easy to find yourself in the middle of a busy market or café.
What to do in Puglia if you feel like sunbathing
As a sailor, you must already know plentiful coasts, but it doesn't do any harm to explore some coastal towns from the other side of the water. Take a dip on the best beaches of Puglia and have a rest on some breathtaking stretches of coast.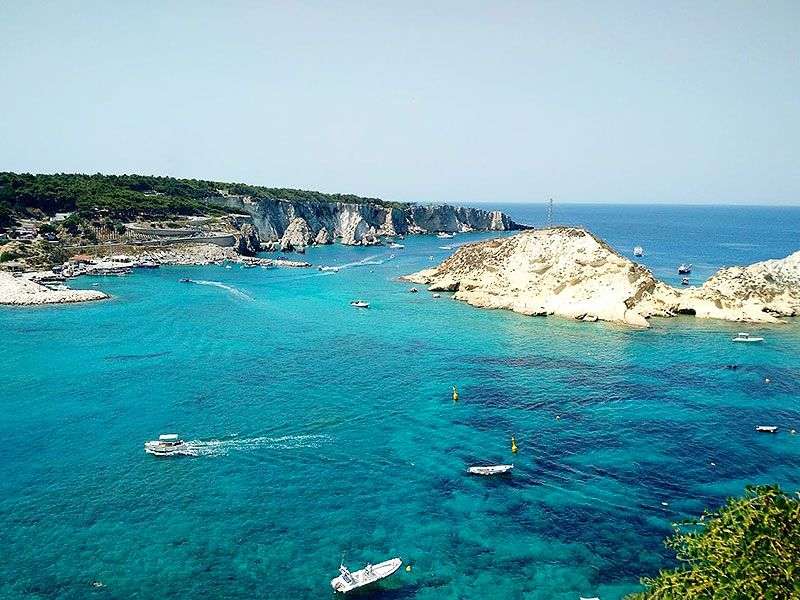 Bari
Apart from the winding roads of the old town, Bari's beaches are also worth a visit. If you are tired of the whole-day sightseeing, visit Torre Guaceto which is only an hour's drive from Bari. The beach stretches for 6 km, is lined with sand dunes and has a true Mediterranean feel to it. Forget about your problems whilst you are basking in the sun under the olive trees.
Polignano a Mare
This small town offers beach-goers a unique cultural experience and historical attractions for relaxation. Cala Porto, a beach with white pebbles, is situated in the heart of town, under the old town that is flecked with tiny squares. The crystal-clear water is tinted a gorgeous blue. If you'd like to chill a bit after a whole day of wandering, this could be a perfect spot for you.
Tremiti Islands
San Domino, San Nicola, Capraia, Cretaccio and Pianosa islands are perfect for those who love diving and snorkelling. Apart from the fascinatingly clean water and the scenery, exploring the underwater world is also an unforgettable experience. The tiny islands are famous for their underwater coves and grottos that allure thousands of divers to Puglia.
If you feel like visiting this region, don't hesitate as there's plenty to do in Puglia. Historical sites and buildings, cultural centres, markets and dozens of splendid beaches await you. Read more if you plan sailing in Puglia or boat hire in Puglia.