The majority of the Adriatic's 1000 islands can be found in North Dalmatia. They stretch parallel to the mainland. However, some are unpopulated; the bigger ones are home to cosy Mediterranean towns. To explore them Sibenik is a great starting-off point. Its location makes it ideal for a regional single centre tour.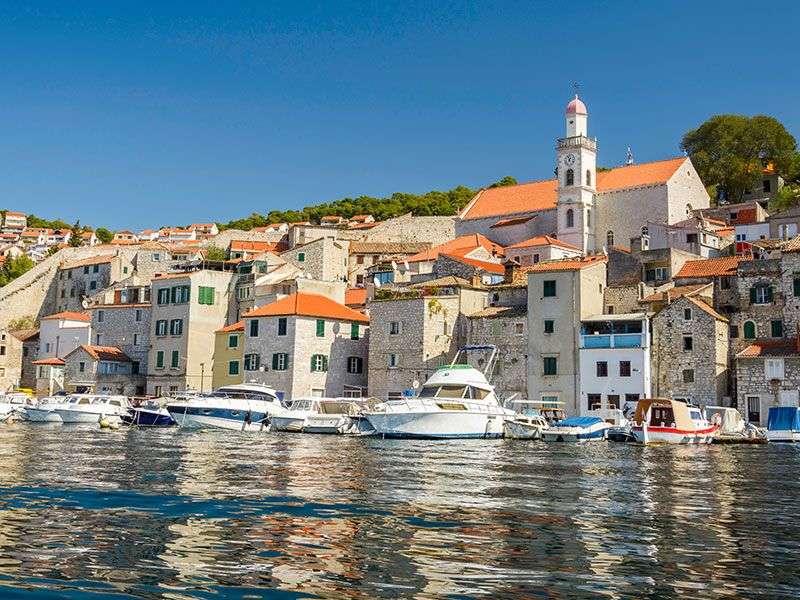 Check out the other points:
Sibenik, a real pearl
As a matter of fact, Sibenik is a bit unknown for tourists. However, its name reminds everybody of its port, this nice city lies in impressive natural surroundings. There are, for example, many outstanding churches found in its narrow bright stone-covered streets. Buildings of similar design rise in the streets and bright large squares.
Sibenik lies around a bay; a 10-kilometre long channel connects it to the sea. It seems as if we were walking around the shore of a lake. Moreover, there is a fabulous greenbelt opposite the pier.
Programmes, interesting sights in Sibenik and its surrounding
Seasonal exhibitions are held every second week at the Sibenik Museum in the Cathedral square. The exhibition intends to display the history of Sibenik. Another venue for the exhibition is the 12th-century old chapel of the St. Chrysogonus Church. The St.Barbara Church functions as a clerical museum too. The Baroque building of the Orthodox Church possesses a first-class icon collection as well as the Church of Saint Mary wonderful pieces of art. The most valuable pieces of the St. Francis' churches are the 10th-century old songbook and the 14th-century old Sibenik prayer. This was written in Latin.
The biggest cultural event of Sibenik held in the last week of June is the International Children's Festival. For entertainment, there are concerts, puppet shows, processions, handicrafts etc. Concerts are also held in the Saint Michael's Fortress.
Besides, you can take part in an amazing procession on 9-10 May, the honour day of Lady of Loreto, in Primosten. Our Lady of Porto Celebration takes place on 27 July whereas the Primosten Days in the first week of August.
Regarding gastronomy meat and fish, lovers are welcome. One of the best restaurants in Sibenik is Restaurant Pellegrini. It is worth trying the whole list of Dalmatian specialities; besides enjoying the local's hospitability.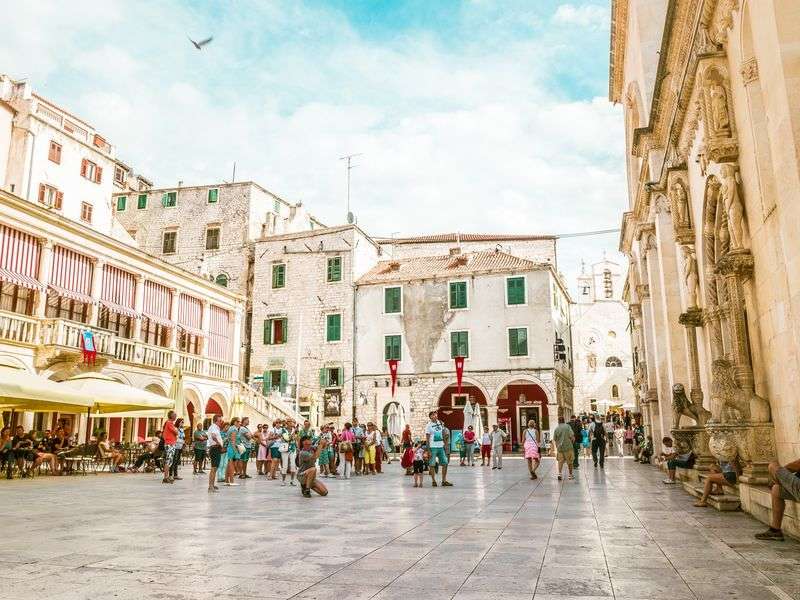 What to see in Sibenik: nearby towns
Vodice
Sibenik is surrounded by a bunch of holiday resorts. Vodice is the biggest one as it attracts many tourists with its pleasant summer atmosphere, nice restaurants etc. There is only one port, but numerous beaches.
Tribunj
Tribunj is connected to the mainland by a small peninsula. There are excellent beaches, and the town is proud of having one of the largest fishing fleets of the Adriatic. Above all, tasting a special local sea fruit dish is a must. The most delicious one is Polenta with fish stew.
Pakostane
The next great place for plunging into the water or visiting an extraordinary fun park is by Pakostane. Lake Vrana, Dalmatia's biggest freshwater lake lying next to Pakostane is 14 km long, 2 km wide and 4 m deep. Its famous attraction is the 11th-century castle. Biograd na Moru lies on a small peninsula. It awaits its visitors with some great sights and cosy beaches.
Sukosan, Rogoznica
An interesting sight in Sukosan is the 15th-century two-floor villa of the bishop of Zadar. Unfortunately, nowadays the water washes against the walls of its ruins. Read about what to do in Sukosan.
The small town of Rogoznica can offer similar facilities like Primosten. A bridge spans over the small island and the land. Its soil is fertile for producing grapes, and divers find great adventure here too. Boatmen always tell exciting stories about this region. For instance, Ploce Cave, the former shelter of fishermen, is worth visiting.
Primosten
This Medieval town lies on a peninsula. All its streets lead to its famous church with a bell tower. There is a splendid view here to its vineyards where its well-known red wine, Babico, is produced. As a matter of fact, it is a favourite place for divers too. If you prefer convenience, choose one of the exclusive hotels on the peninsula nearby with standard facilities like tennis or bowling. As you would expect, there are countless cosy beaches in the shore. Moreover, a naturist beach can be found on the small island of Smokvica.
Let's walk now from the port of Marina to its sandy beach, after visit its 15th century Marina Tower.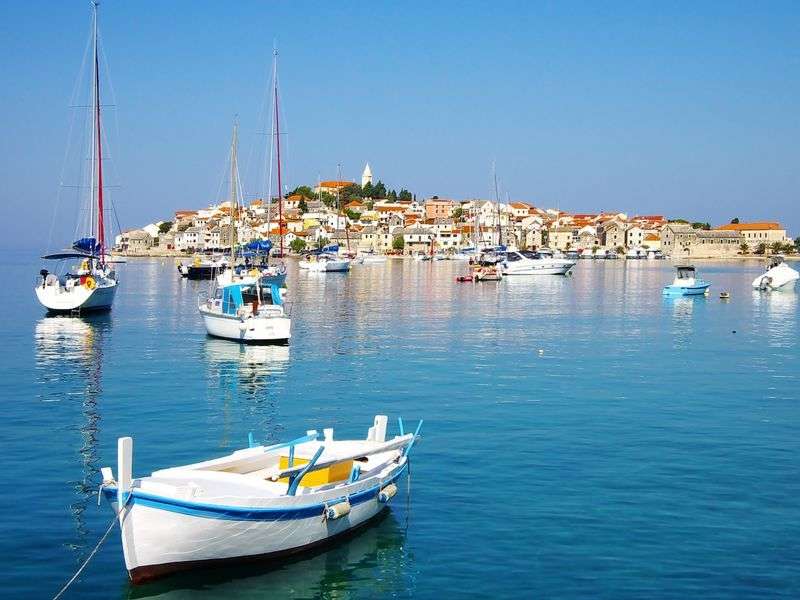 What to do in Sibenik: the unspoilt nature
Krka National Park
The Krka National Park near Sibenik is on the must-see list. Its two main attractions are the Cascades and Lake Visovac. Actually, there are lookout terraces on its shorter footpath; although the most amazing view awaits you on the bridge spanning over the river. So you walk above the river on wooden bridges meanwhile watching this impressive natural view. It's more than romantic, isn't it? There are water mills beside the waterfalls. The level of the river, in fact, drops 46 meters in several steps. In the last lake, you can even swim. A small boat takes the tourists to the small island in the middle where a monastery was erected. Furthermore, you must know that the park is one of Europe's richest ornithological areas. 800 plants and 250 species of birds live here.
Islands by Sibenik
The hundreds of islands, reefs, rocks and cliffs make the Croatian Adriatic's most beautiful part. You can sail to many small islands within a day. They stretch parallel to the mainland. Moving further, we glimpse Zlarin that is famous for its red corals. If you prefer tranquil beaches, choose its sandy beach with its picturesque pine forest and spacious port. It's not surprising, I reckon, that there are fishing villages preserving their old traditional atmosphere like Prvic. Its stone Baroque church was erected in 1740. Krapanj is the tiniest island of the Adriatic.  The main source of inhabitants is fishing of sponge and corals. The next island is Murter which is connected to the mainland through a narrow channel. There are tiny narrow bays around its steep shore. Its popular coastline is in Slanica Bay. Murter's marina is a great starting-off point for boaters to explore the Kornati islands.
Kornati islands
Kornati islands are the largest and densest island group of the Adriatic. It is a real karstic area with caves, cracks, grottos and cliffs. It gained its reputation for its stunning white limestone formations erupting like magic from the contrasting blues of the Adriatic Sea and the sky. This is strange but true that these islands are private properties with fascinating olive trees, vineyards, plantations.
Sibenik is preferred by sea lovers- Due to its location, it is ideal as a starting-off point to explore the whole North-Dalmatian island group. It offers plenty of sights for visitors such as two national parks, a beautiful landscape, delicious wines, and high-quality gastronomy; not to mention the hospitality of locals which all capture the boatmen's heart. Read more if you plan sailing in Sibenik or rent a boat in Sibenik.