The island of Syros is an ideal compromise for a holiday vacation: It is not too crowded, but is definitely not a dead island either! Regardless of whether you want to enjoy your time among other tourists or you are looking for quieter spots, you will find all of that here. You can visit amazing beaches here, and the northern part of the island offers great hiking opportunities. There is a buzzing nightlife in the capital, but if you would prefer some peace, you can visit the smaller villages, too.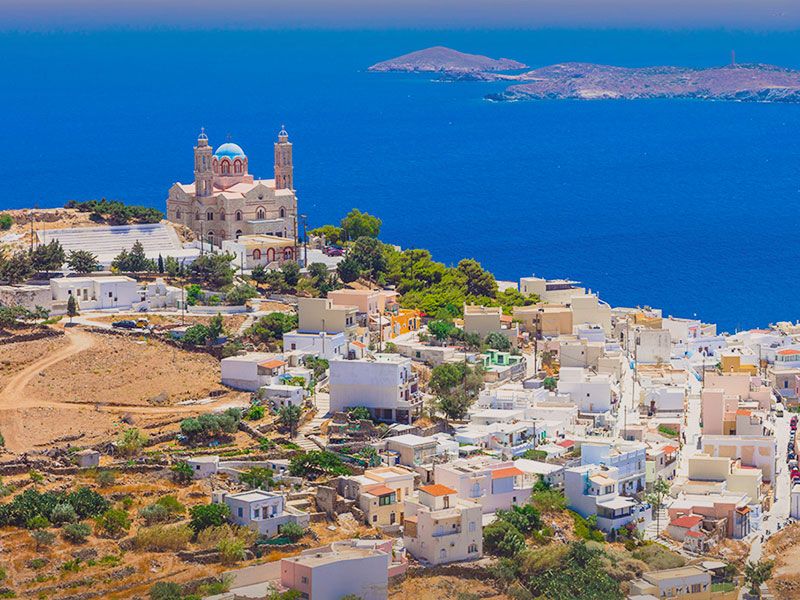 This article gives you an overview of the following topics:
Things to do in Syros: Sandy and pebbly beaches
There are mostly sandy beaches on Syros, but you will still find some pebbly ones as well. Most beaches are located on the eastern and southern shores, but there are also a few in the western part. Since the northern coast is rocky, there are no beaches in that area; instead, you can explore sea caves on your boat. There are many different beaches near Ermoupoli. It doesn't matter whether you are looking for crowded or hidden beaches, you will definitely find your spot on Syros!
If you would also like to go scuba-diving, we recommend the beach in the village of Azolimnos. There are many places where you can rent diving equipment. Are you after a family-friendly beach with slowly deepening waters? Megas Gialos is the place to go! If you want everything you may need in one place, then you should dock at Possidonia. The beaches here, such as Komito on the southeast, offer complete relaxation.
What to do in Syros: Sights to see
Look around in the capital of Syros!
Ermoupoli is the buzzing capital of the island. There are countless sights to see in a fairly small place. The Vaporia quarter next to the port is a truly unique sight. The best restaurants and cafés can be found here as well. The Town Hall is on Miaouli Square – it is also the administrative centre of the Cyclades. You can admire several churches on the island; most of them are located in Ermoupoli. There are also 3 larger museums here. They exhibit different items of shipbuilding and machinery in the Industrial Museum. The Archaeological Museum in one of the wings of the Town Hall has a collection of relics from all parts of Syros and its neighbouring areas. As for the Museum of Cycladic Art, visitors can admire artifacts and paintings directly related to the Cycladic period.
Visit the winery in Talanta!
The tiny village Talanta and its winery can be found to the north from Ermoupoli. You can see the workers in action here, and try two local wine specialties.
Play in the Greek archipelago's one and only casino!
There are only few casinos operating in Greece; the one in Ermoupoli is one of them. You can try many fruit machines and gambling tables here. They also have blackjack and roulette, but you can't play real money poker.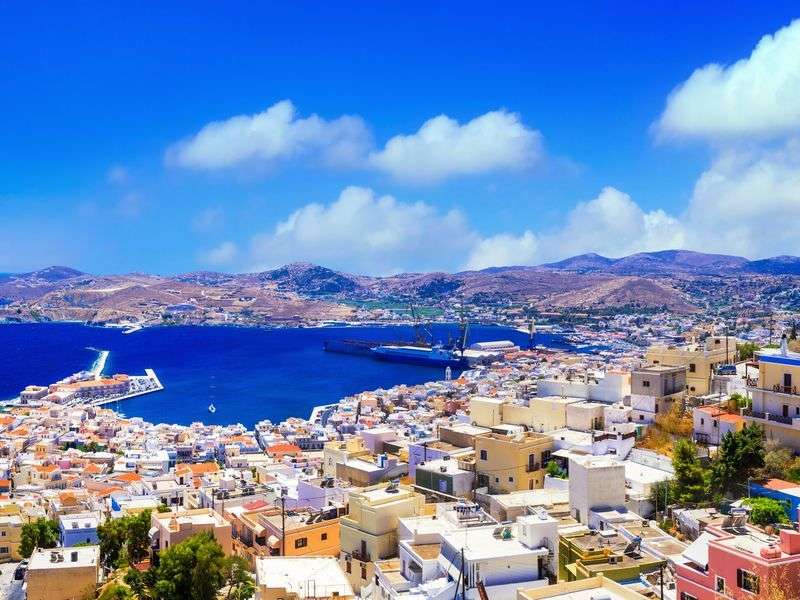 Things to do in Syros: Entertainment opportunities
Watersports
Watersport enthusiasts really like Syros; There are many beaches offering equipment rental services. For instance, you can rent a diving equipment on the beach of Azolimnos, and then start exploring the interesting spots in the area. If you have never tried diving before, you can learn it at the Salt Water Diving Center in Ermoupoli.
Horse-riding excursions
You can take part in world-class horse-riding courses in the village Kato Manna. After you have learnt how to handle your horse, you can take it on an excursion on the island. This is one of the best ways to explore the wonderful natural environment! We particularly recommend that you ride to the higher parts of the island in the north.
Gastronomy of Syros
Syros is mainly famous for their cheeses and unique desserts. You can find the Zozefinos and Tyrosyra cheeses in many local restaurants and groceries; they even sell them in Athens. As for the desserts, the locals are particularly proud of the one called loukoumi. The confection is known as "Turkish delight" outside Greece, and it is sold in many flavours around the port.
In this article, we have provided a detailed list of the things worth visiting and trying on the island of Syros. If you choose this island as one of your stops during your sailing trip, you definitely won't be disappointed! Read more if you plan Syros sailing or rent a boat in Syros.