The resort town of Faliraki practically grew out of nowhere. A period of 10 years was enough for tourists to explore this beautiful shore segment for themselves where there were only a few cafés and restaurants at the beginning of the 1950s. It has been very popular since as locals provide tourists with everything they need. There are also several interesting sights to see, so the town is a great choice for hikers as well.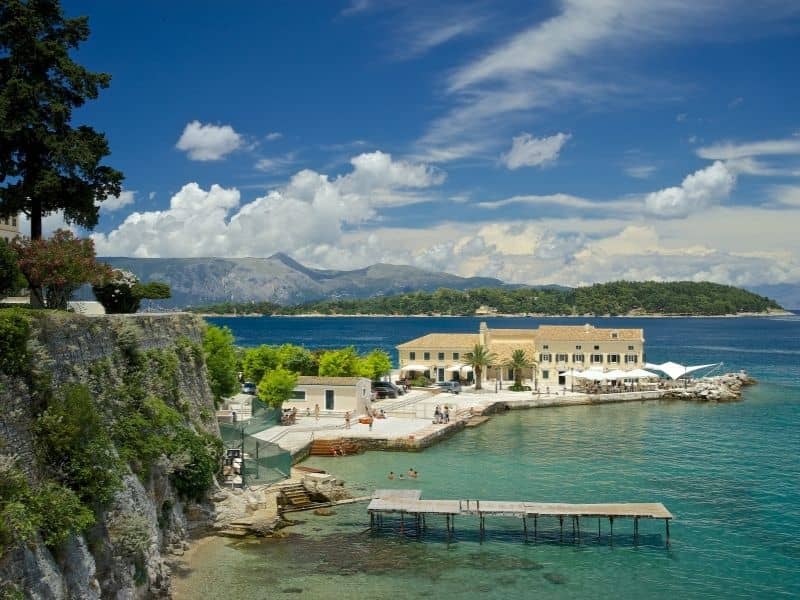 This article summarizes the following:
Things to do in Faliraki: sandy and pebbly beaches
Rhodes has dozens of beaches to offer; we will introduce you to Faliraki and its neighbouring areas in particular. The area is mainly characterised by long shore segments with fine golden sandy beaches. As people in the coastal towns make their living from tourism, all beaches are well-established; all of them offer sunshades, loungers and changing rooms. You will also find bars and restaurants on the beaches, so you won't have to go far if you get hungry. The most popular part of Faliraki is the 4-kilometre-long shore segment that may be a bit too crowded during the main season. Should you visit during this time, we recommend going to the eastern end where there are usually fewer tourists. The well-equipped beach of Kathara is located nearby; there are no crowds here and the slowly deepening waters make it suitable for families.
What to do in Faliraki: Sights to see
Explore the two towns!
The town of Kalithies, located a bit further from the shores, offers several interesting sights to see. The architecture style of Kalithies was basically established during the Italian occupation between 1920 and 1947. One of the most significant buildings is the town hall with its little balcony. They used to make announcements from up there to the locals and soldiers gathering around. You can admire several churches and chapels in town and nearby. If you are looking for souvenirs and other small gifts, you will find craft shops and gift shops in the central part. If you forgot your swimsuit, you can also get one there!
Enjoy a hike in the neighbourhood!
If you have experience in hiking, we recommend that you visit the Church of St. George. There is a moderately challenging hiking trail to a beautiful cave starting here. You can also see the remains of an ancient Minoan palace from the top of a hill near Ladiko Bay.
Things to do in Faliraki: Entertainment possibilities
Watersports and diving
The 4-kilometre-long shore segment of Faliraki offers dozens of watersport opportunities including water skiing, wakeboarding and canoeing. The Anthony Quinn Bay is perfect for diving; interestingly, it got its name from the actor playing the main character of Guns of Navarone, a movie that was shot here. You can observe the rich underwater wildlife of the bay as well. If you don't have your own diving gear, you can rent one in the diving centre.
Visit the Faliraki Water Park
You can find one of the largest water parks in Europe here. The park, which has a territory of 100, 000 square metres, offers dozens of rides and attractions! They even have their own train that you can use to get to the other side of the park on the outer rim. They offer slides of different difficulty levels for both kids and adults including a free-fall slide, a kamikaze slide, the "onion" and slides with a length of 140 metres! There is also a rollercoaster and a wave pool in the park. There is even a supermarket, so you can buy anything you need there.
Nightlife
Faliraki offers a buzzing nightlife to those who love partying. From small bars to giant discos, you can choose from dozens of clubs of different styles in town.
The gastronomy of Faliraki
You can try a wide variety of food and drinks in the restaurants lined up along the main road, from Mexican and Italian dishes to local specialties. If you want to experience what authentic Greek cuisine has to offer, we recommend the smaller bars and taverns on the back streets. In the marina of Faliraki, you can see the fishermen returning home during the evenings. If you want to try seafood, you should go to one of the restaurants near the beach. The Desert Rose, specialising in different fish dishes, is a particularly good choice.
Faliraki is an incredibly popular resort town with countless entertainment opportunities, great sandy beaches and several sights to see. Regardless of whether you would prefer hiking, doing sports or swimming during your holiday, you will definitely not be bored here!