The iron mines have always been an important part of Serifos' history. They are not operating today, but are still a great tourist attraction. As locals engage themselves in agriculture and fishing, we can choose from several local specialties.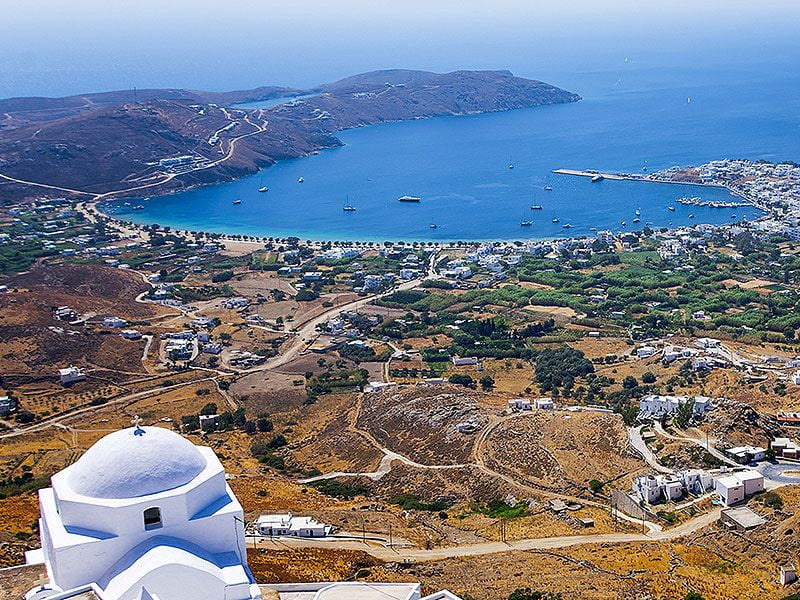 This article gives you an overview of the following topics:
Things to do inSerifos: sandy and pebbly beaches
The beaches in Serifos are mostly sandy; there are some others, too, with a mixture of sandy and pebbly parts. Most of these are family-friendly, with slowly deepening waters and shady spots. The most popular beach – which also has the best infrastructure – is located next to the port of Livadi. There are restaurants and beach bars here. If you are looking for a wind-protected spot, you should visit Koutalas on the southwest. Would you prefer swimming in a secluded environment? Then you should go to the sandy-pebbly beach of Sikamia!
What to do in Serifos: sights to see
Visit the old iron cave!
The iron mines on the island were operating until 1964 since the ancient times with shorter and longer breaks. There is also a monument here commemorating the victims of the 1919 miners' strike. The cave of Koutalas can also be found near this cave; you have to stop at the entrance, as entry is forbidden due to the risk of collapse.
Discover the capital of Serifos!
In the capital, you can get acquainted with the history of the island. There are two museums here: they exhibit different works of art in the folklore museum, and you can learn about regional history in the archaeological museum. If you would like to go shopping or you get hungry, you can also choose from several options, as there are a lot of smaller shops and restaurants.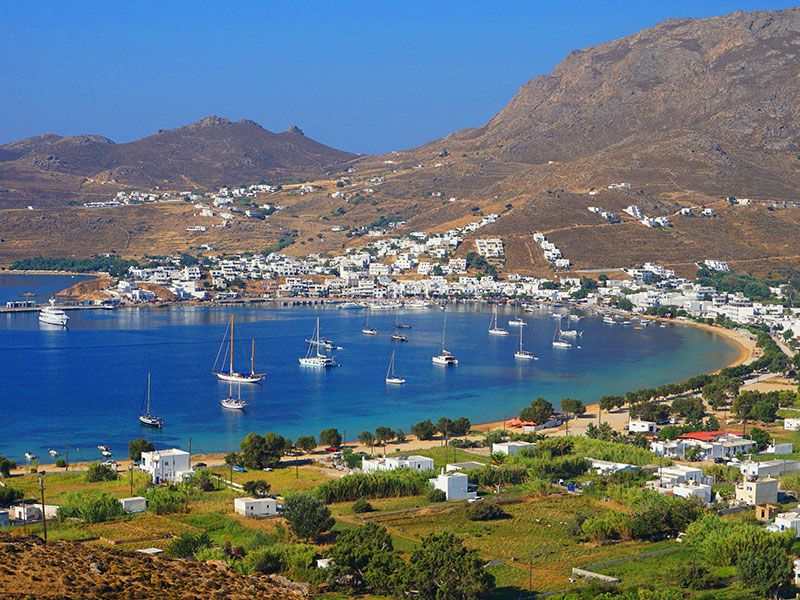 Things to do in Serifos: entertainment options
Watersports
If you want to go scuba-diving around the shores of Serifos, we recommend Serifos Scuba Divers in Livadi. You can rent diving gear here, and they also offer a basic diving training. If you prefer surfing, you can do that as well in Livadi; there are surfboard, SUP and canoe rentals in town.
Hiking
Serifos has a diverse terrain and there are several marked hiking routes here. Most of these lead to local attractions. As there are fairly high elevation gains, we recommend these routes to more experienced hikers.
Gastronomy of Serifos
The different fish are very popular on Serifos; most restaurants serve dishes prepared with mullet, swordfish and cuttlefish. If you are on Serifos during the festival season, you will likely encounter a dish called fava (pureed yellow peas). You should also try the locally-produced, sun-dried tomato.
Even though the island of Serifos does not offer a huge amount of sights and entartainment opportunities, you should still visit it because of the amazing beaches. If you would like to enjoy your holiday in an island that does not get too crowded even during the main season, you will love this place! Starting your sailing trip here, you can access a major part of the Cyclades, as most islands are fairly close to Serifos.