If you set your heart on Costa Brava's famous little fishing town, Palamós, you will be able to choose from innumerable activities. You can try many water activities such as kayaking, sailing, jet skiing or water skiing. However, the mainland also has a lot to offer: there are some brilliant hiking trails and you can also visit several historic monuments. What to do in Palamós? Stick with us and we will show you some of the best things to do!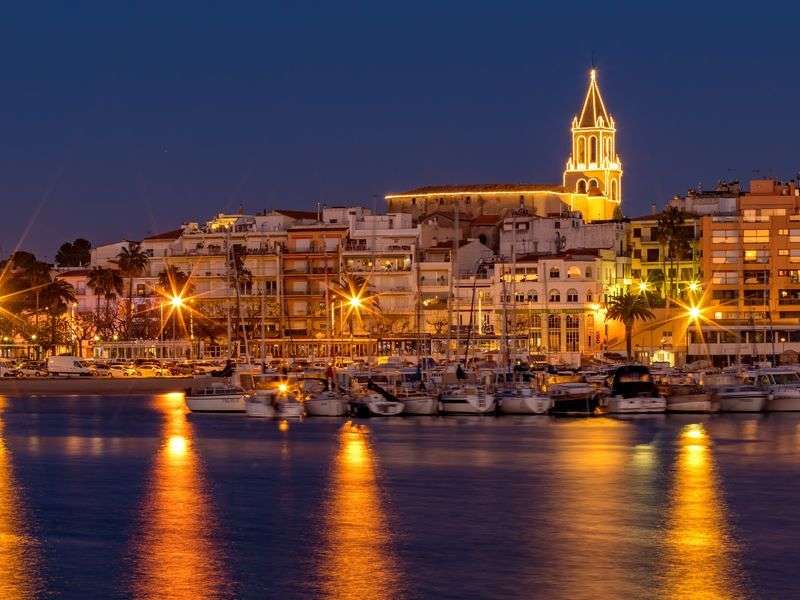 The article includes the followings:
Things to do in Palamós: traditions and events
Fishing has a long-standing tradition across the Costa Brava coastline. As well as Roses, L'Escala and Blanes, Palamós is still one of the significant fishing settlement of the region. There are several ways to get to know the local fishing culture: visit the fishing museum that informs you about the history of fishing as well as the current methods and technologies and participates in the living fish sale. Exploring the fish market, joining a boat trip and tasting the various delightful seafood dishes; all activities that shouldn't be missing from your must-do list!
Festivals in Palamós
Similarly to most of the Catalonian towns, there are numerous festivals taking place in Palamós too.
Visit the Mardi Gras Festival, the traditional boat festival, the Easter Sunday's swim (the first swim of the year), gastronomical festivals and events related to 'Sardana', a traditional Catalan dance that originates from the region.
The Carmen festival, and the town festival in June, celebrating Sant Joan also belong to the most popular events.
What to do in Palamós: if you are a nature lover
There are several splendid hiking trails winding in and around the city. These vary from short walks to whole-day trips. By their difficulty, most of these trails are also suitable for those who don't regularly hike. It's worth stopping at the Touristic Information Office to pick up a map and to get informed about the latest updates on the trails. You can also join an organised, guided tour, which apart from a few hours hiking also includes some beach time, a tasty lunch with some lovely wine and transfer back to Palamós.
Join us to find out about the best excursions!
From Palamós to Palafrugell
Via Verda ('Green Path'), or otherwise known as Ruta del Tren Petit ('the route of the little train') is a perfect hiking trail. The path follows the railway track of an old train that used to run from Palamós to Girona, hence the name of the trail. You can walk alongside the old rails to Palafrugell town, but there are also several adjoining paths, leading to Vall-Llobrega or the beaches of Platja de Castell or Platja de la Fosca. The main track that leads to Palafrugell runs for approximately 7 km and takes about 2 hours to complete. You can also extend or shorten this with the branching paths. The previously mentioned one to Platja Castell, for instance, adds an extra kilometre to the hike.
Some further good news: the main track also has a cycle path running alongside, thus you can also explore this trail on wheels.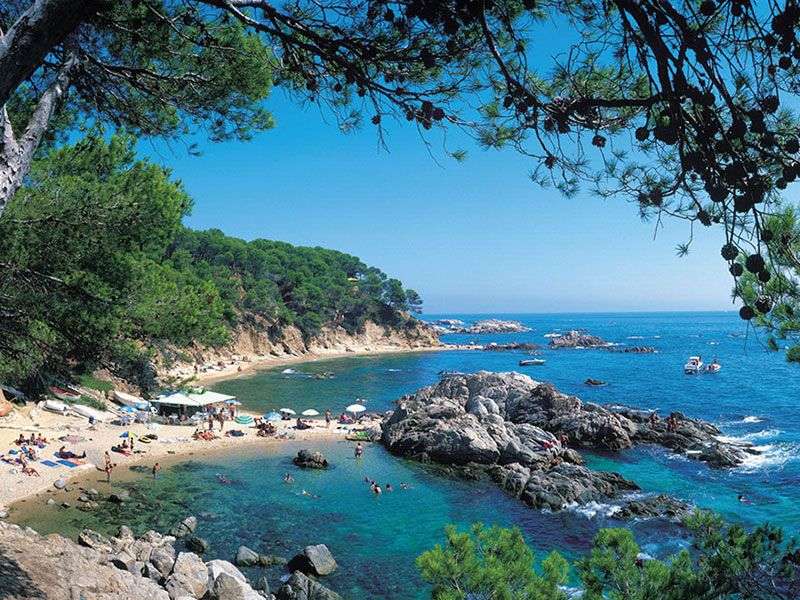 The coastal path between Platja d'Aro and Palamós
Would you rather head to the other direction? We highly recommend the coastal path between Platja d'Aro and Palamós. The trail winds through Roman ruins and tunnels, alongside heavenly beaches, unspoilt coves, islands and reefs and many more stunning attractions.
Platja d'Aro is dotted with cafes and restaurants and is thus a perfect spot for relaxing. It's definitely worth having a tasty meal before heading back to Palamós.
The trail is approximately 8.5 km and takes about 2.5 hours to complete.
Vall de Bell-lloc
Although Palamós is renowned for being a small fishing town, on the north it's framed with mountains and forests. The Gavarres mountain range boasts beautiful mountain vistas and allure with hidden wonders such as ancient ruins or a sanctuary. If you are hiking alongside the Bell-lloc Valley, you'll be able to see the cork oak trees, out of which the wine corks are made. Back in time, cork production used to be Palamós' main industry.
There are also vineyards and olive groves and alongside the path, you can stop by ruined stone houses and mills and admire the breathtaking scenery.
On the hilltop, you can also visit the dolmen of Montagut, the megalithic single-chamber tomb. Before or after the tour, we recommend having a nice meal or going wine tasting to the Finca Bell-lloc or the Celler Brugarol wineries. Both of them are quite close, however, make sure to pre-book.
Things to do in Palamós: diverse water sports opportunities
If you are keen on water sports Palamós and its surroundings offer opportunities aplenty. You can go swimming, try diving, sailing, jet-skiing, surfing or fishing and you can also choose from a huge variety of great boat trips.
Would you like to dive deeper into the mystery of water sports? When it comes to surfing, sailing and diving, Palamós is the best place to be in Costa Brava!
Palamós is especially good for sailing, owing to the favourable wind conditions.
One of the most beloved spots amongst divers is the Boreas Pellworm yachtwreck. The tugboat served the German Navy during WW II.
You can also choose from a wide range of boat trips varying from short cruises combined with free time for sightseeing, to whole-day fishing trips. Moreover, you can even rent a boat for yourself! Rent a boat in Palamós and sail in Palamós!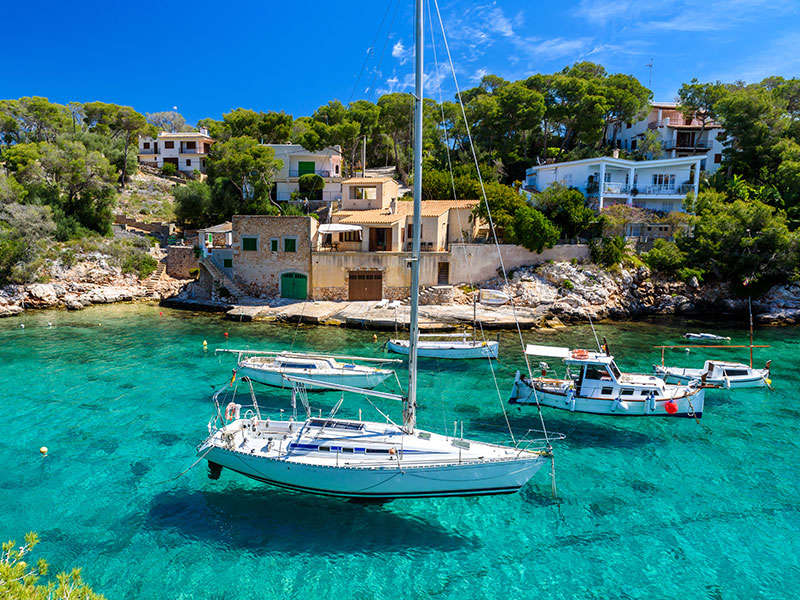 Gastronomy of Palamós: taste the town!
Hundreds of various fish species populate the waters surrounding Palamós, providing the markets and restaurants with fresh fish. The town's famous dish is the 'Gamba de Palamós', a delightful seafood dish prepared with tasty, shiny, red prawns. There are even gastronomical events connected to this special dish, moreover, between April and July, many restaurants offer menus based fully on prawns.
Of course, you can try other seafood dishes too. The town boasts such exquisite local restaurants as Can Blau, Restaurante Caleta Blava, La Gamba, the Hotel Marina Restaurant or the Mas dels Arcs.
Local wines of outstanding quality
The Empordà region is one of Catalonia's most famous wine-growing areas. The most renowned speciality of the region is the Garnatxa de l'Empordà, a sweet dessert wine.
If you fancy visiting a popular, local winery, head to Finca Bell-Lloc, where you can sample some of the finest red and white wines.
The Empordà region also tries to keep up with the world's leading champagne areas. In some wineries, you can even find the famous Spanish sparkling wine, the 'cava'.
Our article has listed some of the best things to do in Palamós. You definitely won't be disappointed if you choose this pleasant holiday resort! Everyone will find something of their liking from the wide range of available activities. Read more if you plan sailing in Palamós or boat rental in Palamos.