Kolymbia is a relatively new resort town established at the end of the 1980s. It lies on a long and mostly sandy shore segment, offering a great environment for swimming and watersports. There are dozens of interesting sights to see near the town.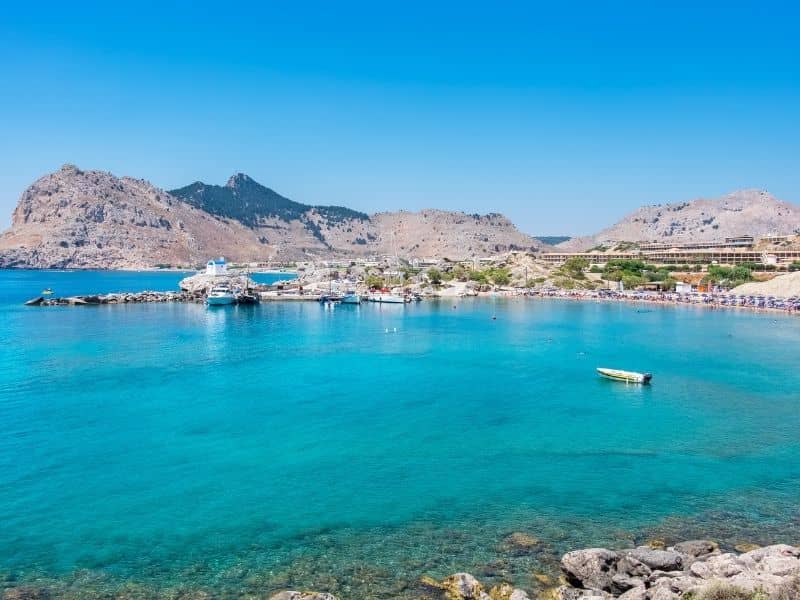 This article summarizes the following:
Things to do in Kolymbia: sandy and pebbly beaches
There are beaches all over the eastern shores of Rhodes, with both sandy and pebbly parts around Kolymbia. Most of these are well-organised, and some shorter parts are not too crowded, offering a quiet and peaceful environment. These spots are mostly located a bit further from the town. The long shore of Kolymbia is ideal for watersport enthusiasts who also have several gear rental options to choose from.
What to do in Kolymbia: Sights to see
Go hiking on the island!
You will find hills and valleys west of Kolymbia that are perfect for hiking. You must definitely see the Epta Piges (Seven Springs)! It is located halfway between the towns of Kolymbia and Archipolis. There are two ways to get here: you can walk down to the spot through a 1-kilometre-long tunnel, but if you are afraid of the dark, you can of course choose the trail above the tunnel as well. You can admire seven springs with crystal clear water in the beautiful forest. The tiny streams flowing from the springs end in a lake that never dries up even in the hottest summers.
Things to do in Kolymbia:Entertainment possibilities
Watersports
The long beach of Columbia is very popular among surfers in the summer. There are beach rentals offering wakeboard and waterski gear, canoes and different inflatable float mattresses for rent.
Rhodes Toy Museum in Archipolis
The famous toy museum of Rhodes is located in the village of Archipolis. If you are a toy enthusiast, you should definitely see this place: you will find vintage arcade machines, board games, RC cars and other toys here as well. It is of course a perfect place for kids who can even play with Legos and play-dough. There is even a playground in front of the building!
Museums
If you are interested in local history, you should also visit the Rhodes Nature-Folklore Museum. The place consists of a traditional Greek house and another section exhibiting the local flora and fauna. The contemporary Artistic Village is also worth visiting: you can admire beautiful pieces of art, for instance, ceramics here.
The gastronomy of Kolymbia
The resort town also represents different world cuisines; of course, restaurants and taverns serving Greek dishes are the most popular. There are also Italian pizzerias, as well as confectionaries and cafés. As for Greek taverns, we particularly recommend Taverna Tsambikos, specialising in grilled dishes. If you are looking for a tavern serving great seafood, Taverna Edem is a good choice.
Kolymbia is a fairly quiet resort town with dozens of sports opportunities, and there are also interesting sights to explore nearby for nature enthusiasts. Thanks to its favourable location, it is a good starting point for a sailing trip; regardless of whether we navigate towards the north or the south, the next marina is within a short distance.