Located in the south-western part of the Cyclades, Folegandros is perfect for those who want to swim in a peaceful environment. Although there are not many tourist attractions here, you should definitely visit the capital.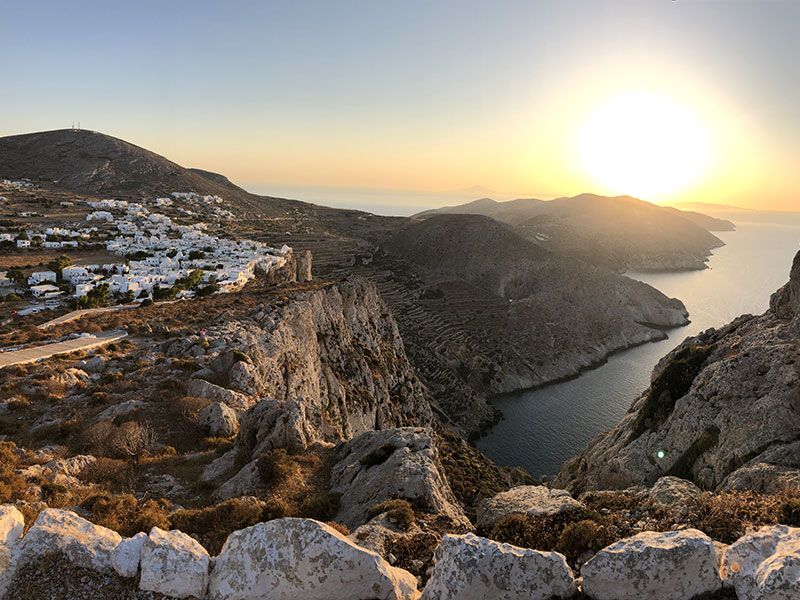 This article gives you an overview of the following topics:
Things to do in Folegandros: sandy and pebbly beaches
This tiny island has only five designated areas for swimming. Agali is the most famous beach. Taverns offer delicious meals in summer. Are you looking for a beach with more services and some shade? Visit Karavostasi beach, right next to the port! The island offers more peaceful, less popular beaches as well. Agios Georgios and Ambeli are further away from the villages. If you want to go swimming in an untouched natural environment, we recommend visiting the pebble Ligaria beach.
What to do in Folegandros: sights to see
Discover the capital of Folegandros!
Folegandros is mainly known for its beaches, but you should see the capital as well. You can admire the whitewashed, Cycladic-style buildings. Visit the Church of Panagia. It is about a 10-minute walk from the town. The church offers wonderful views over the port and the island.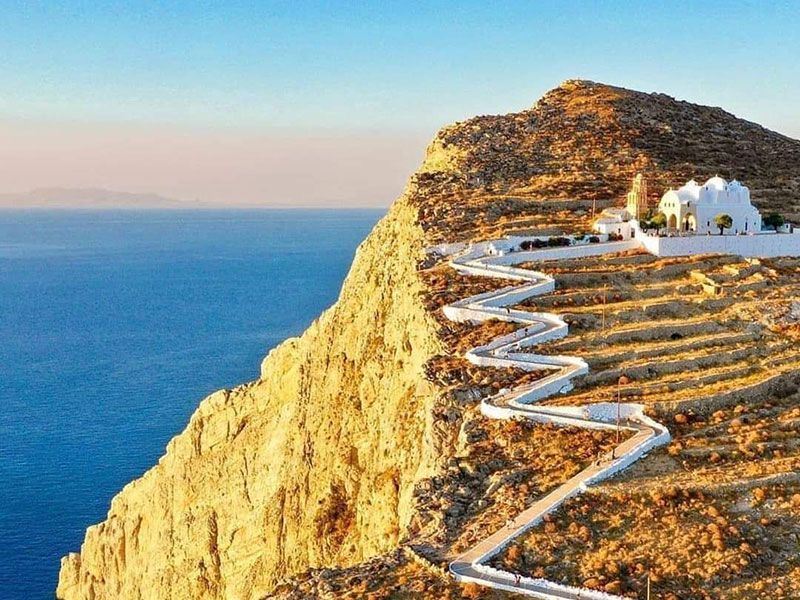 Visit the Chryssospilia Cave!
Visit Chryssospilia Cave, located on the north-east side of the island! You can only approach this archaeological site by boat. It was a sacred place in Roman times, but excavations still take place today.
Things to do in Folegandros: entertainment options
Water sports
On the island of Folegandros, you can rent diving equipment at Sea U, located in the capital. Since the beach is not too crowded, the sea has a rich marine life. This is why Folegandros is great for diving and getting to know the wonders of the underwater world!
Gastronomy of Folegandros
Many locals make cheese on this tiny island. They produce cheese from goat's or sheep's milk, or the mixture of the two. Souroto cheese has a creamy, spreadable texture with salty or peppery flavours. Also, we recommend trying matsata pasta, which is a local speciality. It is made from flour, olive oil, salt and water. You can order matsata dishes at restaurants. Usually, the pasta is cut into strips and topped with meat and grated cheese. If you like wine, we especially recommend Merkouri Bar, located in the capital, next to a vineyard. They offer more than 40 Greek wines.
The calm little Folegandros does not offer too many entertainment options. In return, you can swim and dive in a calm, tranquil environment. Also, Folegandros is a great starting point for exploring the southern Cyclades. From here, you can visit Milos, the Small Cyclades and Santorini. Read more if you plan sailing in Folegandros or Folegandros boat rental.