Tortola is the busiest Island of the British Virgin Islands, and it is full of life. It has countless treasures to offer, from natural beauties to wonderful beaches and delicious meals. Whatever we plan during our trip, we will not be bored. We are now going to show you a few exciting places that are worth knowing if our next destination is Tortola.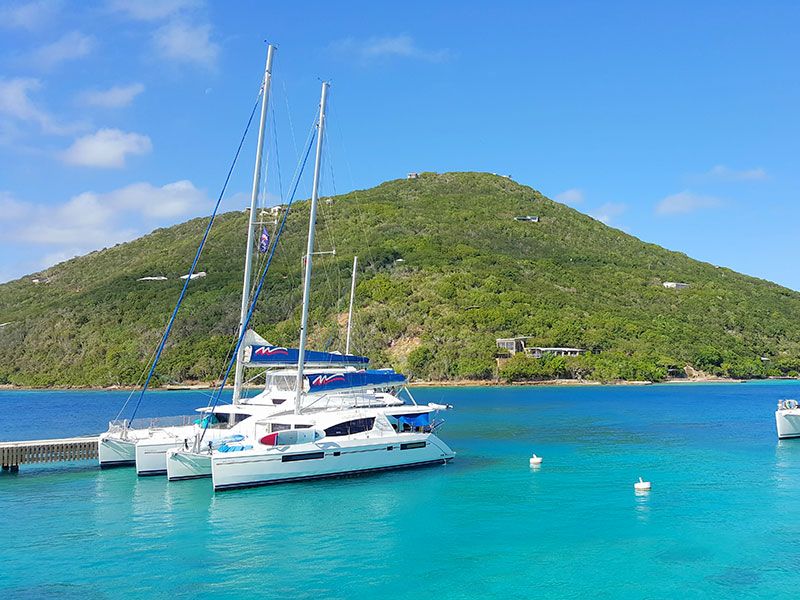 This article gives you an overview of the following topics:
The most beautiful beaches of Tortola
The British Virgin Islands are famous for their beaches for a good reason. This is true for Tortola as well. The Island is rich in wonderful beaches, among which we can find more peaceful ones, as well as beaches buzzing with life. If you have enough time, you should take a day off to rest and enjoy the sweet relaxation.
Smuggler's Cove
Smuggler's Cove is located at the eastern end of Tortola. It is considered one of the island's most beautiful beaches. It is secluded, so the easiest way to approach it is on foot or on a boat. The beach is almost never crowded – it is calm and picturesque.
Cane Garden Bay
Cane Garden Bay is Tortola's most famous and popular beach. It is located in a beautiful bay, and is covered in clean, white sand. The beach is busy but family-friendly at the same time, and there are also some good restaurants. The sunset is marvellous here, and the bars in the area are filled with life during the night. It is a must-see sight for everyone who visits Tortola.
Josiah's Bay
Josiah's Bay is located in the northern part of the Island. The bay belongs to a farm – that is why we can usually see sunbathing cows in the area. It is the favourite spot of local surfers, since it is less known and is never crowded.
Long Bay
Long Bay, as its name shows, is a 1.5-kilometres-long beach on the eastern side of Tortola. It consists of two parts: Long Bay East (from the direction of Beef Island) and Long Bay West (from the direction of Tortola). On the eastern part, the landscape is beautiful and the sea is calm; it is the locals' favourite beach. The western part if also beautiful: there is a sandy boardwalk leading through the area which is perfect for a romantic walk.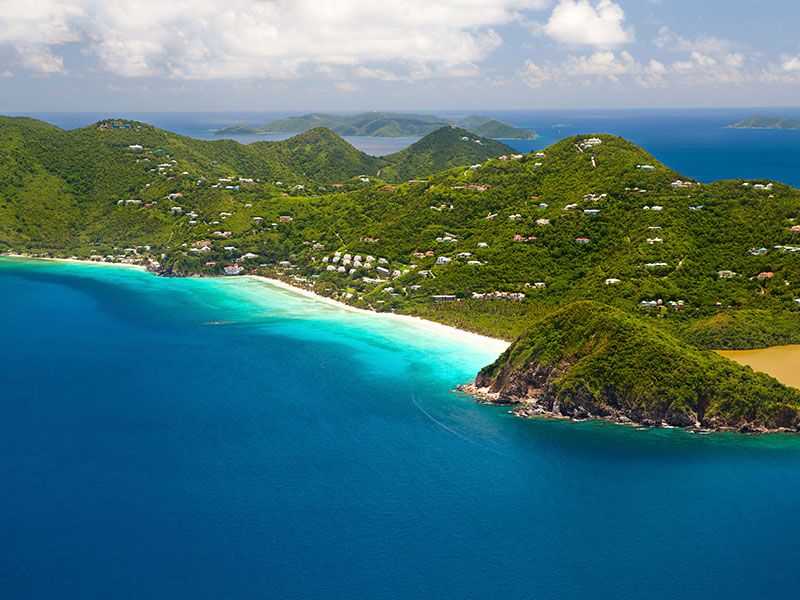 Islands and hiking opportunities in Tortola
Most people associate Tortola with the beautiful beaches; however, the island has much more to offer. It is surrounded by breathtaking islands, and there are excellent hiking routes. Let's see some of them.
The Indians
The Indians is a smaller archipelago app. 7 kilometres from Tortola, west of Pelican Island. It essentially consists of four pinnacles. They are app. 30 metres high and are 15 metres above the water. The Indians is one of the most popular scuba-diving spots around the British Virgin Islands. It has unique and exciting sea life, close to the surface of the water. There is an underwater cave where reef fish live; sometimes a few lobsters move in, too.
The Caves
The Caves is located at Norman Island in Privateer Bay. Everyone must see the cave who visits Tortola. Its walls are covered in all sorts of sea wonders. Swimming and scuba-diving are two uplifting activities that we can do here. There is usually a crowd in the main season, between 10 a.m. and 4 p.m. If you would like to avoid that, you should arrive as early as possible.
Salt Island
Salt Island is located south of Tortola, between Peter Island and Cooper Island. There is a natural salt furnace on the Island, where locals used to collect salt a few years ago. The shipwreck named Rhone is also located here, making the island a very popular scuba-diving spot. The Rhone was a royal steamboat, and it sank in 1867 during a hurricane. The ship is almost completely intact under the sea.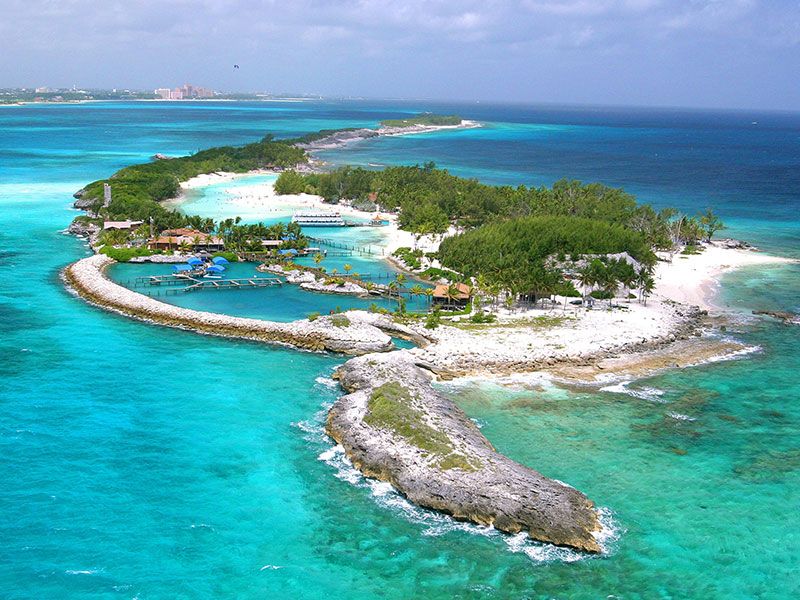 Sage Mountain
Sage Mountain is the British Virgin Islands' oldest national park and the highest point of Tortola. Several hiking routes lead to the viewpoint. There is a steeper route through a mahogany forest, and an easier one leading up to a giant fig tree. These start at the entrance of the national park. The side routes are versatile as well; they are usually less challenging, except for the southern one which is occasionally rocky and slippery. It is a must-see spot for hikers.
Bat Cave
Bat Cave is located at Brewer's Bay. It is a less-known hiking spot due to its secluded location. There are green stairs leading up to the hill on which this giant, hollow cave is located. The shady viewpoint, Shark Bay is located app. half a kilometre from Bat Cave. The view of the bay is wonderful from here.
Other sights to see in Tortola
Tortola has a rich history. There is a fair amount of establishments with significant history. We are going to show some of these below.
Mount Healthy Windmill
Mount Healthy national park was established in 1983. Sugarcane was harvested and processed here in the 18th century. The unharmed remains of the old windmill, the boiler house, the animal mill and the distillery preserve its memory.
Her Majesty's Prison Museum
Her Majesty's Prison Museum was reopened in 2016. In the exhibition, we get to know about the exciting world of crime, social rebellions, and prisons by photos, guidebooks, and other installations. The entrance fee is 5 dollars.
Callwood Rum Distillery
Callwood Rum Distillery is the oldest rum distillery in the Caribbean area; they have been producing the Arundel rum here for 400 years now. A still – located in an old stone building – and a sugarcane plantation belongs to the distillery. Visitors have the opportunity to taste the beverage; each type costs 1 dollar. We can choose from 4 types of rum. They have white, four-year-old, ten-year-old as well as spicy rums. It is a real pilgrimage sight for the lovers of special drinks.
Road Town, Main Street
Main Street is the shopping quarter of Road Town. Walking through the street, we can visit many types of shops. There are shops selling souvenirs, spices, wine, antiquities, handmade jewelry and local art products. If you do not like shopping, Main Street is also the home of several historical sights. The Britannic Hall, the Virgin Island Folk Museum, the St. George's Anglican Church and a centuries-old post office can be found here.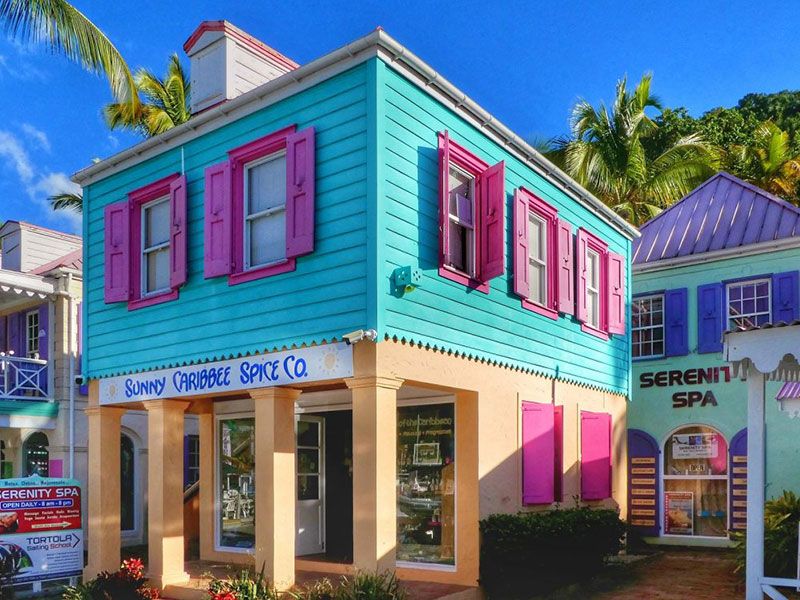 Traditions and events
Festivals and holidays in Tortola
The Island's most important musical event is the British Virgin Islands Music Festival which is organized every year at the end of May. During this three-day-long event, Cane Garden Bay is filled with music, and its sandy beaches become dancefloors. It is the world's largest musical event considering calypso, reggae, fungi, and jazz music. One of the biggest holidays of the British Virgin Islands is the British Virgin Islands Emancipation Celebration. The commemoration is organized mid-summer when they celebrate liberation with fairs, music, parades, gospel games, and folklore presentations.
Gastronomy
If you would like to explore Tortola's unique cuisine, you should visit the Island's traditional places. In these restaurants, they use centuries-old Indian recipes. You can try many authentic meals. One of these specialties is roti, which is flatbread filled with meat. This is the local street food. One of the island's most famous vegetables is okra, and the restaurants have many fruit desserts to offer. They have lots of fish dishes. One of these is "Old Wife" which is delicious fish fillets made with fruits and vegetables. You can also have fish pancakes, shark, perch, wahoo, mahi-mahi or tuna baked, cooked or in a soup.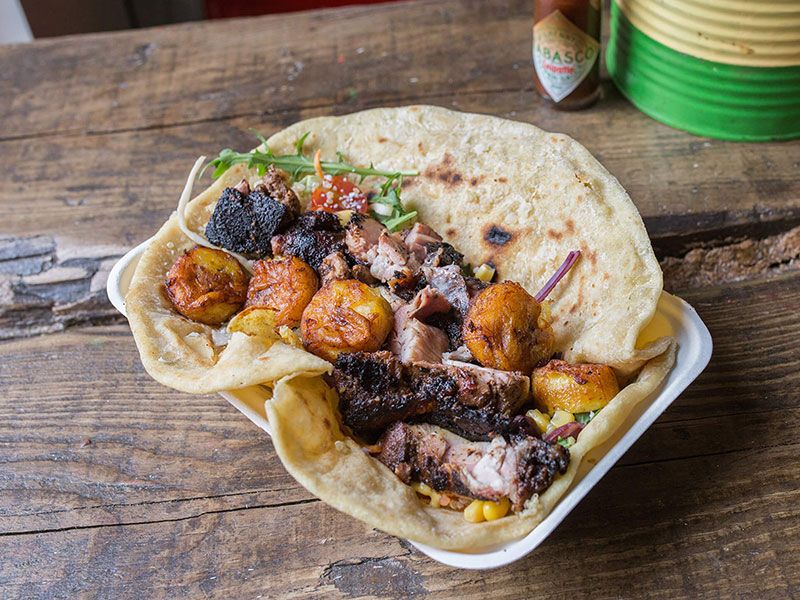 As for drinks, black and bush tea are the most popular ones – the latter can barely be found anywhere except on the Island. As for alcoholic beverages, rums are produced locally; Pusser's and Cruzan are the most famous brands. You can also try many types of cocktails, which are usually made of the juices of local fruits.
British Virgin Islands Food Fete
The biggest gastronomic event in Tortola is the British Virgin Islands Food Fete. This one-month long series of events are organized every year in November. Visitors get to know international cuisines and the unique flavours of the British Virgin Islands. The festival consists of several events (Taste of Tortola, Taste of Virgin Gorda, Cooper Island Rum Festival, Anegada Lobster Festival) organized on different islands.
Furthermore, there are many outstanding restaurants around. If you want something "pirate-like", you should try William Thornton's, the swimming restaurant on Norman Island. The true classic of the British Virgin Islands is Pusser's at Marina Cay, which offers mouth-watering dishes and authentic rums for all visiting sailors. Cooper Island Beach Club is an open-air restaurant, where we can enjoy the wonderful view of the bay while having dinner.
Sandy beaches, green mountains, ports full of yachts and an amazing atmosphere – this is Tortola where the past blends with the present. It is not by accident that the island has been attracting thousands of visitors for years. If you are looking for an exciting holiday on the sea, Tortola is the place to go! Read more if you plan sailing in Tortola or Tortola boat rental.