The coastline of the Adriatic Sea – from the western point of the Istrian peninsula to the southernmost point of Dalmatia – hides wonders of nature and beauties of human creation. The land of a thousand islands is a favourite destination of sea lovers. The 54 ports offer you the safest mooring and protection and they are only a few hours' distances from each other, which is optimal. Towns that can be found in a beautiful Mediterranean environment and rich in historical and cultural values, as well as beach and sports facilities are easy to reach from the ports by walk. You can spice your daytime sailing with a mainland adventure. After leaving the yacht at night, you'll still have plenty of programs to choose from to make a balance with your sailing. A sea explorer who wants versatility and adventure should not miss Kvarner bay as a target destination.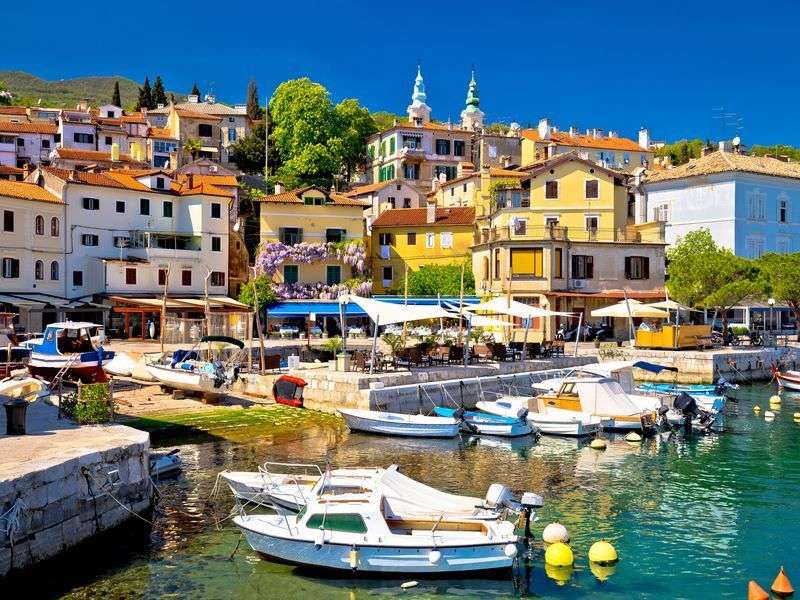 The main points of the article are the following:
Where it's not only worth sailing
The Adriatic Sea is one of the calmest and cleanest parts of the Mediterranean. From April to October, it is a perfect venue for lovers of sailing. But you will also enjoy yourself when you are not on board of your yacht due to Croatia's coastal opportunities. Each island is unique and special with its sights, traditions, and programs. You'll get the chance for fantastic adventures on islands, reefs, hidden bays, blue-greenish lagoons.
The wonderful islands of Kvarner Bay
You can choose from a wide variety of programs on the islands. Scuba diving deep in the sea, discovering of national parks and nature protection parks by walking, biking or riding a horse. Rafting or kayaking in river canyons or in karst areas; parachuting or paragliding in the mountains.
You'll find restaurants whichever direction you leave the port. If you walk into the town, you can enjoy the Mediterranean atmosphere of busy old town centres, the typical houses, romantic narrow passages, a square covered by cobblestones. This is a really pleasant amusement after your daily sailing.
Lovers of gastronomy will sure try the speciality of pasta with truffles (fuži s tartufima) and green pasta with crab and cream (zelena pašta sa škampima). Fried meat lovers will enjoy ražnjici and cevapcici made of several kinds of ground meat and pljeskavica that you should eat with white onions (Srebrenica) and ajvar. Of course, you shouldn't miss seafood either. You can taste local cuttlefish grilled, filled and in small parts. Two typical wines of the region are white malvazija and the red Cuvee of burgundy and teran cuvee. As an appetiser, you should drink spirits made of mistletoe or honey.
What to do in Kvarner bay:
Three special towns on an exciting route
In this article you can read about Croatia in general, furthermore from the point of view of a sailor!In addition we present three towns, that you schould not leave out of the list of places to be discovered. We'll show you what amazing sights you can see, what are the best programms in these Croatian settlements and what unforgettable experiences await you here.
Opatija, one of Croatia's most prestigious towns
Opatija lies on the northern edge of Kvarner region. This town with prestigious buildings and art nouveau palaces, the one-time Abbazia is also known as the Monte Carlo of Croatia or the Nice of the Adriatic Sea. It has well-preserved squares and offers the view of laurel and lavender, parks with palm trees and the atmosphere of subtropical plants. This town used to be the favourite holiday resort of the aristocracy in the Austro-Hungarian Monarchy.
The most important ones of Opatija's sights are the patinated buildings along the Lungomare promenade. The statue "girl with a seagull" that counts as a symbol of Opatija, the "Annunciation" church in Neo-roman style, Villa Angiolina that has a fabulous flower garden, Saint James Park and Saint Jame's church in it. Hotel Kvarner, the statue of Helios and Selena as well as Juraj Matija Sporer art pavilion.
The idyllic and friendly fishermen's village of Volosko that is only two kilometres from the centre is also worth visiting. Opatija's climate is very pleasant since it is not too hot in the summer (max. 25 degrees) due to the closeness of Ucka mountain. Its climate also makes it an ideal place to cure rheumatic and heart diseases and asthma.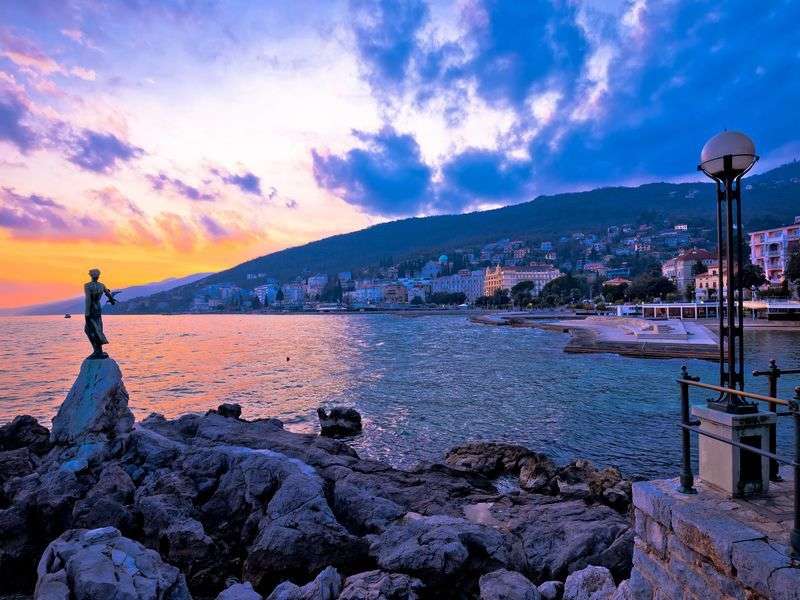 Things to do in Kvarner bay: Activities in Opatija
Besides the beaches, you can find many bays suitable for swimming there. Seawater is crystal clear here too. You can rent a jet ski, water paddles and powerboat at the beaches and those seeking adventures may even try paragliding.
But you can not only get cured, relax, walk or go to the beach in Opatija, but party too. Nightlife flourishes with bars, discotheques, and two casinos. Opatija shows a completely different face during the day than at night. The beautiful palaces get illuminated, candles are lit at restaurants and most of them have live music too. The best pizza of the town is allegedly at Pizzeria Roko on the main street, while restaurants Ruzmarin and Valle Losca are outstanding. Plavi Podrum is an upper category fish restaurant with a wonderful view of the port.
It is worth visiting the market of Rijeka on Saturday mornings. Here you can buy special kinds of fish, e.g. dentex, dorado or John Dory. You can also taste a burek (pasta filled with curd, meat or applesauce)) on a bench in front of the theatre.
What to do in Kvarner bay: Punat, the oldest part of the Adriatic Sea
Punat lies on the eastern side of Krk island, at a 3 km long and 2 km wide bay. It is a small and new town. When you arrive from the sea the view of the place is unique and charming with narrow streets, typical sea houses with arches, balconies, and pubs. You can find the tiny Košljun island in the middle of the bay, where you can find a Franciscan monastery. This is fabulous all together. Besides the monastery, you can find the Saint Bernard church and a library with 20, 000 books on the islands Košljun is also famous for its 540 kinds of plants and mushrooms. Punat is popular for its spirits and the olives. Each family of Punat has its own olive plantation and they make their excellent quality oil according to local traditions in their own homes.
The largest and oldest marine of the Adriatic region can be found in Punat. The port is suitable to receive almost 1, 200 yachts.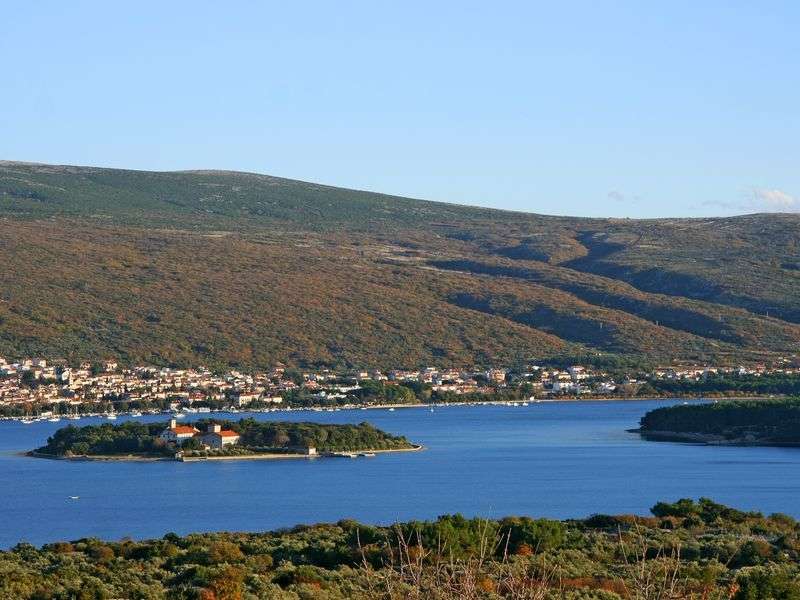 Punat beaches and bays
Punat has beautiful bays that are protected from winds. You can also find shops, cafés d, and restaurants in the town. This place is more like a sailing paradise.
Punat beaches can be found south of the old town (the port) down to Krk bay. They are created in artificial bays closed by breakwaters. The beaches have pebbles and get deep only gradually, some are covered by sand. A small railway runs along the coast to entertain kids and a large playground expects them in the centre of the town.
Those looking for active holidays can find tennis, bowling and mini-golf courts here, or they can apply for scuba diving courses or choose underwater or sports fishing. There is a professionally created wakeboard area in the bay.
There are several restaurants, cafés, bars and wine cellars in Punat. Restaurant Vele Vode (not too expensive) or fish and seafood restaurant K-Ribaru or pizzeria Ragusa is worth trying.
From Punat, it's nice to make a trip to Veli Lošinj, Unije, Cres or Susak island.
Mali Lošinj, the most populated town on an island of the Adriatic Sea
Lošinj island is located on the western edge of Kvarner bay towards Italy. It is one of Croatia's most interesting islands and also a place in Europe with one the most sunshine hours. Mali Lošinj is a nice and pleasant Mediterranean town and the largest tourist centre of the island. It is a long wide promenade and picturesque bay with restaurants and cafés.
Lošinj's flora is very rich. More than a thousand kinds of plant, out of these 230 herbs and 80 exotic plants live here. Nature is most beautiful here in March and May when most plants flourish and you can feel the scent of herbs in the air.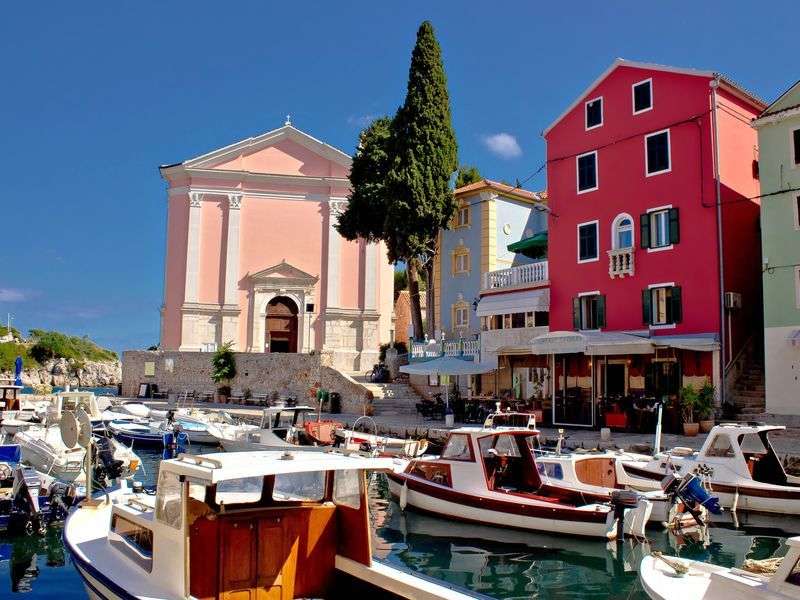 Things to do in Kvarner bay: Activities in Mali Losinj
An island is an excellent place for lovers of mountain biking. There is a 30 km long, medium hard bike path here that leads through bays and beaches. You can also find scuba diving, surfing and tennis schools here, motorbike and moped rental, water ski, jet ski, and a giant aqua park.
Mali Losinj also has many sights that are all in the port or in its neighbourhood. The most important ones are the Saint-Martin church, Queen Elisabeth's summer residence, the aromatic garden presenting herbs and the Calvary.
The town has two shopping centres: Konzum and Discounter, and you find many vegetable and fruit vendors in the port.
The beaches are to the west and southwest Mali Lošinj town in romantic little bays among cliffs offering a wonderful view. You can find Veli Ẑal Beach in Sunčana bay that is rated among the 20 best beaches of Croatia. The beach of Čikat bay is only one kilometre from the town centre. It is not by any chance that Krivica bay with its unrivalled beauty can be seen on Croatian billboards.
If you yacht for a week in the Adriatic region, you'll collect so many experiences, as if you had spent several weeks on the mainland. The region is huge and versatile. You can find forsaken and romantic bays here just as much as modern ports that are equipped with all facilities. Once you have tried sailing on the Adriatic Sea, you'll surely wish to return. Read more if you plan sailing in Kvarner bay or rent a boat in Kvarner bay.