Mykonos is located on the Aegean Sea and is a member of the Cyclades archipelago. You can find it 80 kilometres from the Attic Peninsula, about 100 kilometres from the Turkish shores. Its neighbouring islands are Delos, Rinia, Naxos, Paros, Siros, Tiros and Ikaria. Its territory is 100 square miles altogether. They also call it "Party Island" because of the buzzing nightlife. Celebrities enjoy themselves on the beach and in the bars and there are awesome parties as well. Mykonos is also visited by many due to its incredibly beautiful natural environment. If you are looking for an active vacation full of adventures, your destination should be Mykonos! We are going to help you what to do in Mykonos if you like the buzz!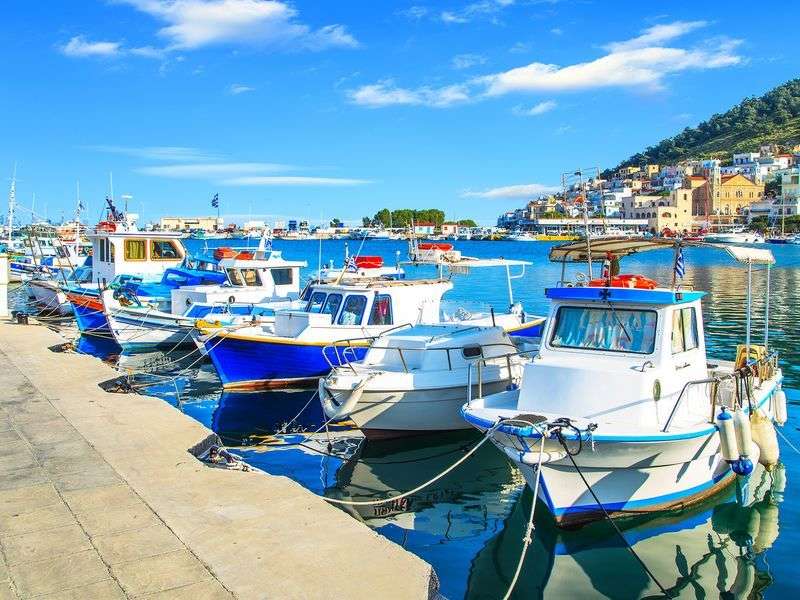 This article gives you an overview of the following topics:
What to do in Mykonos: Watersports
The island of Mykonos is a paradise for surfers, adventurers and restless travellers. The several bays offer you the opportunity to try out extreme things! Don't hesitate if you are a rookie – the experts help unexperienced visitors everywhere!
Surfing on the island
They call Mykonos the "Island of Winds" for a reason. In some of the bays, the winds and the waves are just perfect. The beach in Kalafati is a central spot for surfers. This wide bay is located in the southwestern part of the island. Rent a board and conquer the sea!
Windsurf
Windsurf enthusiasts are taming the waves at the beach of Ftelia every day. If you are a beginner, the beach of Megali Ammos is ideal for you. Future surfers are trained by expert instructors.
Kitesurf
Barely 2 kilometres from the town of Mykonos, on the beach of Korfos, kitesurf fans can enjoy their favourite activity. Thanks to the Meltemi, which is the local northern wind, there is constant and stable air movement here. Kitesurf is endless speed itself!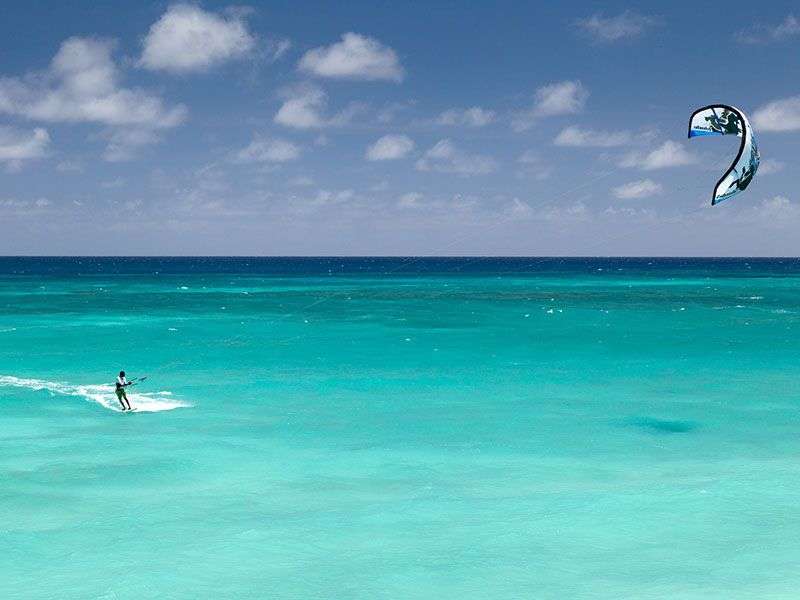 Scuba diving
The local diving centre organises tours to the yachtwreck that can be found in the southeastern part of Mykonos. It is in a very good state; we can even see the interior. The yachtwreck functions as a natural reef for the wildlife of the sea. It has been populated by colourful corals and sea sponges for almost 30 years. The other parts on these shores are very exciting, too, with their rich wildlife.
Some other extreme ideas…
If you are looking for even more adrenaline, we are going to give you some ideas. Flyboarding is an exciting sport – you have to balance on propelled water coming out of a device under your feet with high pressure. It is similar to hoverboarding, but the latter offers a larger space for your movements, so you can even perform tricks. Tube riding is also very popular; you are sitting in a giant dinghy while being pulled by a powerboat. As for waterskiing, we guess it doesn't need any explanation. Patient and well-trained instructors will introduce you to the world of watersports, so you can get on the water in complete safety even during your first session.
Things to do in Mykonos: 3 great ideas if you want to explore the hidden gems of the island
This wonderful island provides you with many exciting programmes beside sightseeing. We have collected 3 things to do in Mykonos for you.
Hike to the windmills in Chora!
The windmills in Chora can be found next to the port city of Mykonos. They can operate effectively due to the constant winds. They were built-in the 16th century and used for cereal grinding. There are only 7 mills today. Most of them function as a private house or a museum. Take a long walk as the view is fascinating, and there are interesting exhibitions as well.
Guided tour in the town of Mykonos
You can take part in an almost 3-hour-long guided tour in the town. You can see Manto Square and the Mantogianni district, offering elegant shops with all kinds of luxury items. The maritime museum's exhibitions are also very interesting, and you can walk to the district called "Little Venice", too. They named it this way for a reason, as the houses are accessible directly from the water, and you can almost feel the sea at your feet while sitting on the café terraces. Again, you should definitely take a long walk in the town, as the cosy streets and medieval buildings will surely have an unforgettable impression on you.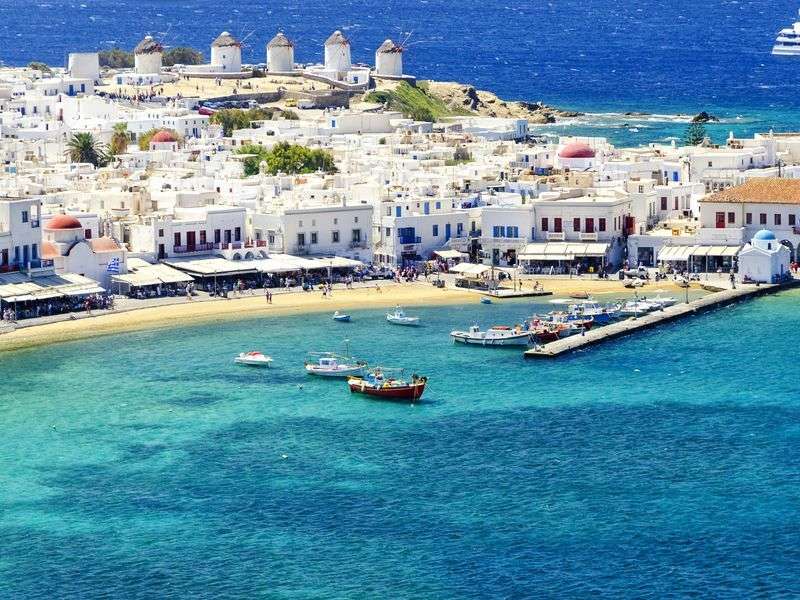 Rent a bicycle and go on a trip to the neighbourhood!
You can rent a bike in Mykonos, and explore the neighbourhood safely on the designated routes. Cycle over to Ornos, which is around 4 kilometres from Mykonos. There are two fantastic beaches near the town. If you are experienced enough, you can rush over to the other side of the island, to the beach of Fokos. Believe us, you will not regret it!
The gastronomy of the Mykonos island
The island is not only famous for the entertainment opportunities but the culinary experiences offered as well. On the beaches, and in the ports and towns, there are restaurants and bars everywhere serving delicious meals. We are going to help you what to do in Mykonos if you are a gastronomy enthusiast.
Explore the world of cheeses!
In a place like Greece, cheese is a basic, everyday grocery item. The Greek are traditional livestock keepers, and this is especially the case on this island. There are flocks of sheep and goats grazing everywhere on the fields, smelling of herbs. The feta cheese is definitely familiar to everyone; it is a world-famous soft and salty aged cheese, made of sheep's milk or a mixture of sheep' and goat's milk. They use it as an ingredient for salads. The tirovolia is a traditional freshly made cheese from Mykonos with a mild taste. Graviera is a typical cheese in the Cyclades archipelago. They age it for almost half a year in the salty air. It is made of the mixture of sheep's goat's and cow's milk and has a moderately sweet taste.
Kopanisti is another typical cheese from Mykonos with a strong, spicy taste. Due to its creamy character, they use it diversely. Interestingly, they can make 8 kilogrammes of cheese from a hundred litres of goat's and sheep's milk. Saganaki is a grilled cheese sauteed in flour and spices. It's delicious with fresh basil and lettuce!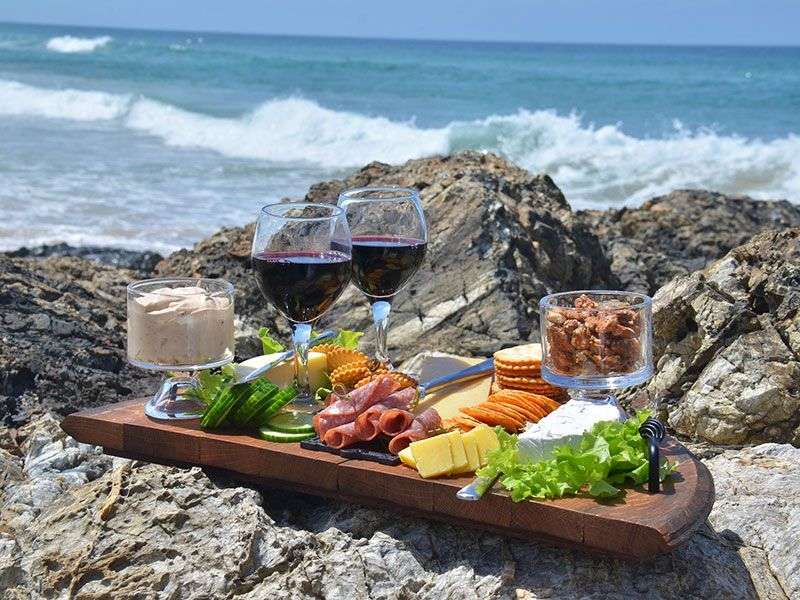 Try the frutti di mare!
The sea has a key role in the lives of the locals. They make delicious meals based on ancient recipes. The steamed shrimp with guacamole and white wine is majestic. You can also taste cooked and grilled shellfish, marinated with garlic and herbs. The baked swordfish is a real delicacy; its tender flesh melts in the mouth like butter. The roasted octopus is usually served with seasonal vegetables. The parrotfish is best when fried or grilled, and of course, served with a large amount of tzatziki sauce. Tuna steak and baked sardines with tomato are also on the menus.
Feast on the treasures of Earth!
Locals traditionally used to make a living by keeping goats and sheep for thousands of years. They have developed countless methods for preparing meat. The lamb au gratin is made with garlic, lemon and a lot of herbs. They also like it roasted. There is a type of casserole in Mykonos made with lamb, barley, tomato, garlic and oregano. As for the giblets, they use them for making soup. They also often eat goat, cooked in a yoghurt marinade, served with egg cream and lemon. The stuffed goat is a typical Easter meal; they put walnut, lemon, fresh spices, nutmeg and raisin inside. The moussaka is a popular Greek dish, which is practically layered eggplant with minced meat. They usually eat it with barley. They also make sausages and aged smoked ham.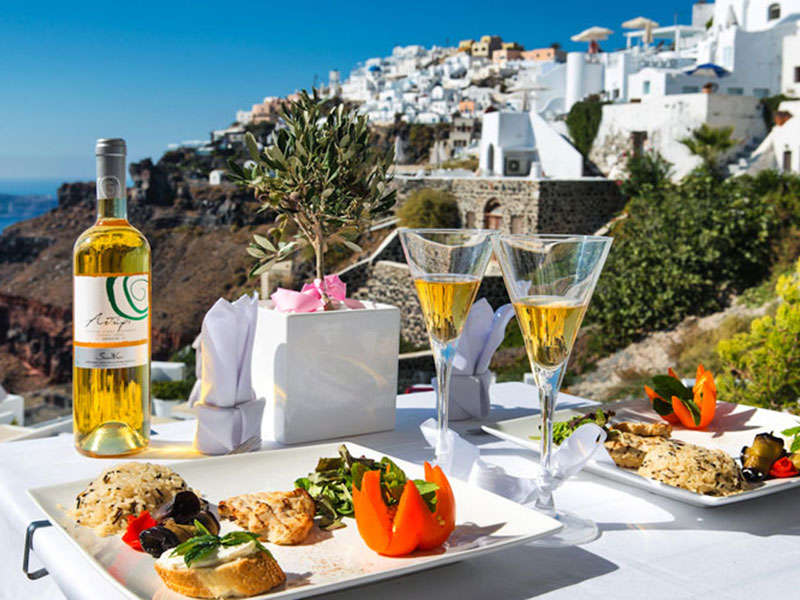 Have breakfast in a local bakery!
You can find local bakery products in Mykonos everywhere. They praise their own specialities all the time, and they are right to do so. The paximadia is a twice-baked bread; they put gem of cream cheese on top. There are also pies and sesame pretzels made with barley. They have several kinds of sweets made with honey; the honey pie, for instance, is another delicacy made with fresh cheese. The amygdalota is a biscuit made with honey and almond, flavoured with rosewater. The kourabiedes is another type of biscuit; it has Turkish roots and is made with a lot of honey and several spices.
Nightlife in Mykonos
Mykonos has become very popular for the crowds during the past few years. The welcoming and friendly locals and the beautiful environment are very tempting for visitors. There is a buzzing nightlife on the island. In the following section, we are going to introduce you to the best things to do in Mykonos in case you can't sleep!
Paradise Beach
Paradise beach can be found in a southern bay, not far from Pintri. It is the largest and most buzzing beach in Mykonos and probably in Greece as well. It is full of restaurants and bars with pools. World-famous DJs are taking care of the party until sunrise. There are exclusive pubs and thematic parties tempting tourists from every segment of the world.
Skandinavian Bar Mykonos
You can find this inconspicuous bar in downtown Mykonos. There are parties on two floors all through the night. There is a wide selection of delicious cocktails to choose from. This has been people's favourite place on the island since 1987.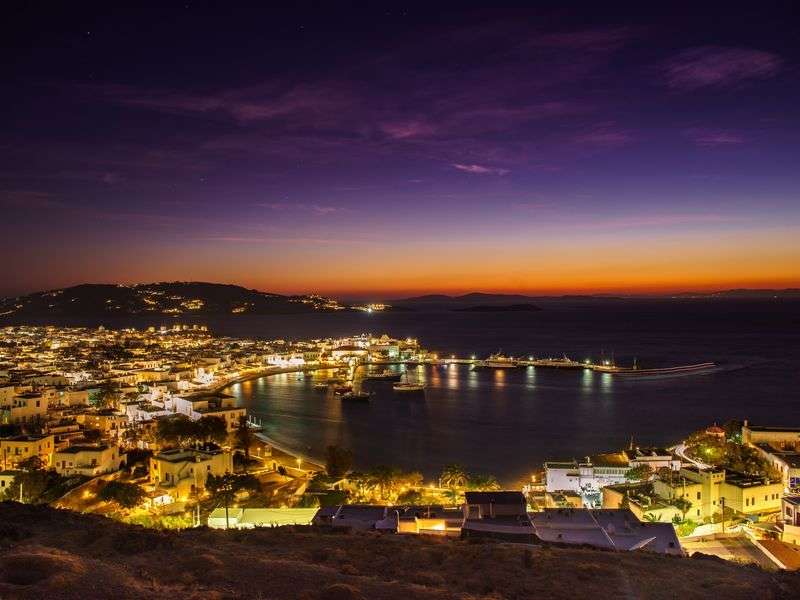 Super Paradise Beach
If there is an even higher level of entertainment, it is represented by Super Paradise Beach. Its name says it all: the atmosphere here is even greater than on Paradise Beach. They start partying early in the afternoon and don't stop until the morning. There are usually several nationalities dancing together in great harmony. If you would like to be part of such an experience, you should definitely look for this shore segment.
In this article, we have introduced the exciting and buzzing side of Mykonos. There is always something happening on this island; they play music everywhere, and you can always see a friendly face, no matter where you go. You can enjoy every bit of the summer in a picturesque environment while sipping a cocktail and relax in the sunshine. If you don't believe us, see for yourself! Read more if you plan Mykonos sailing or boat hire in Mykonos.